BMW used an interactive window display to demonstrate the BMW i concept cars on the streets of New York. The BMW i interactive display gave a reflection of the things to come in the near future.
As kids we always had our own imaginations about cars of the future. These cars could fly, swim through water or teleport to far off lands in a jiffy. Car manufacturers have created concepts for all of the above mentioned figments of imagination (not the third one though). These concept cars look to the future and are made keeping prospective needs of consumers.
BMW is one such manufacturer that envisions cars of the future and tests technology through concepts.  Two of its concept cars, the BMW i3s and BMW i8s, are lined up for a 2013 release. To showcase these futuristic models, the company installed an interactive window display in New York. The interactive window display reflected all the cars that went past it. The reflection of these cars was morphed into BMW i3s and BMW i8s on the window display, giving a vision of the future of transportation.
The background of the location was mimicked to the tee on this interactive screen to create the illusion of reality. The oncoming cars were detected using blob detection technology and converted into BMW i3s and i8s. The technology also helped in matching the speed and behaviour of the real cars to that of the digital BMW i reflections. Taxis passing by were left unconverted to add to the realism. A total of 307,065 passing cars were tracked by the BMW i interactive window display and remodeled into hi-tech soon-to-be-launched BMW i cars.
The passersby on the street got a glimpse of things to come with the BMW i interactive display in New York. Because of the preview, they won't be shocked when they see these cars roll out on the streets in the approaching year.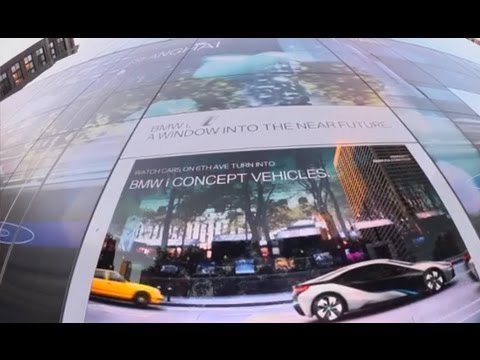 } else {
Related posts: