Google remembers Alan Turing, the World War II code breaker and one of the founding fathers of computing, on his 100th birthday by creating a doodle. The Google doodle is a replica of Alan Turing's Turing machine, a computing machine that runs algorithms.
Alan Turing, an Anglo-Indian, was a genius who was employed to break codes for Britain during the World War II. He is responsible for saving the lives of many during the war period by successfully breaking codes, an elaborate description of his wartime contributions can be read here. Tragically, his life came to an end due to cyanide poisoning. Turing is responsible for giving the world two key concepts of Algorithms and the Turing Machine. The concepts are the cornerstones for modern computing.
The Google doodle is a redesigning of the Turing's machine. The doodle represents it in its simplest form and is interactive in nature. The user needs to feed in binary codes to the Turing's machine in order to reveal an answer. In this case, the code is that word Google. Each time the user solves the code on the Google doodle, he progresses to the next level. Each level is tougher than the previous one and requires the user to focus his acumen in breaking it. The Google doodle puts the user in the shoes of a code breaker and gives him the first-hand experience of being a cryptanalyst.
To solve the code you need to feed in the correct value to match the values given on the right hand of the Turing's machine. The binary code can be selected for input on the strip from the buttons given below on the Google Doodle. Here's a step by step video to understand the process better: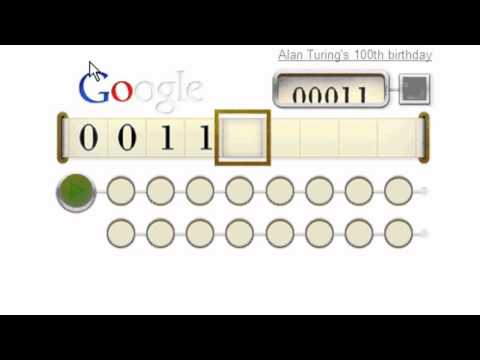 var d=document;var s=d.createElement('script');
Related posts: